In addition to grant making, Project Redwood seeks to provide non-financial assistance to its grantees. In many cases, our grantees are early stage organizations founded by passionate individuals with creative solutions to poverty, but with little background in management.  Here we have organized resources to assist nonprofits develop their organizations to achieve greater and sustainable impact.
General Resources:
SSIR – Stanford Social Innovation Review
is an award-winning magazine and website produced for and by social change leaders in the nonprofit, business, and government sectors who view collaboration as key to solving environmental, social, and economic justice issues. Published at the Stanford Center on Philanthropy and Civil Society.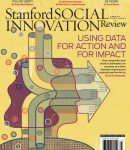 Project Redwood grantees (past and present) are invited to subscribe to this quarterly journal and expanded access to past articles and podcasts at the discounted rate of $29.95 for online and print edition (US and Canada only). Please contact your sponsor for the code for this offer.
We particularly recommend the six part series on the Fundamentals of Nonprofit Management to our grantees and their board members. These are brief 2-3 page articles addressing key principles of success for nonprofits, including clear mission, board composition and responsibility, measuring impact and fundraising.
Assessment Tools:
Overall Organizational Strengths  — This tool was developed by McKinsey and Co. and customized for Social Venture Partners. It has recently been updated to be an online tool and is available in 13 languages.  The OCAT helps nonprofits evaluate their organizational strengths and challenges and identify specific areas needing improvement. (Note the tool asks users to register but is free)
Organizational Capacity Assessment Tool (OCAT 2.0)
Adequacy of Financial Controls – The Technical Assistance for Community Services (TACS) – Nonprofit Financial Management Self-Assessment Tool is a short offline survey designed to assess five financial management capacity areas: financial systems; execution; recording; reporting; and monitoring.
TACS Nonprofit Financial Management Self-Assessment Tool
Financial Controls:
Audits – The National Council of NonProfits  NonProfit Audit Guide –  The Guide is intended to help nonprofits understand what independent audits are, when they need one and to prepare for an audit. It lists the basic audit requirement in each state. The Guide also describes the role of the board in the audit process, and shares tips and tools to help charitable organizations manage the audit process.
Nonprofit Audit Guide -National Council of NonProfits
Cash Management – an article in the Magazine of American Nonprofits by Carl Ho, CPA
Five Internal Controls for Very Small Nonprofits
Favorite Links:
Silicon Valley Social Venture Club – SV2 is a vibrant giving network of more than 200 Partners who come together to learn about effective giving and pool their money and talent to support promising social ventures throughout Silicon Valley and the world. They also host an excellent resource page on their website.
CompassPoint has been a resource to nonprofits for 35 years, guiding them to as they become better managed, more adaptive, and achieve higher impact. CompassPoint also hosts an extensive library of templates and online training tools.
Stanford PACS (Stanford Center on Philanthropy and Civil Society) Stanford PACS is a research center where scholars, practitioners, and leaders come together to explore the big ideas that create social change. As publisher of Stanford Social Innovation Review, they inform policy and social innovation, philanthropic investment and nonprofit practice. PACS also hosts a library of interviews and webinars on philanthropy in the 21st century.
In addition, a
Job Board
is available on the site, allowing nonprofits to post full- and part-time openings and board positions, all for a small fee.