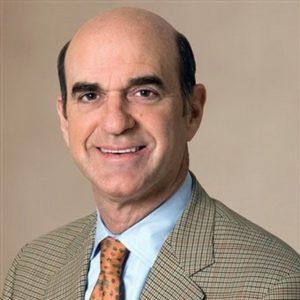 Stanford GSB 1980 classmate Bob Fisher spent much of his career in the retail business and working for environmental causes. From 1980 to 1999, he served in various operating roles at Gap Inc. Bob recently completed over two decades of service on the Board of Trustees of the Natural Resources Defense Council, where his roles included serving as Vice Chairman. He currently is a member of the Board of Trustees of Conservation International, where he serves on the Executive Committee. In 2009, Bob was appointed by Governor Arnold Schwarzenegger to the Strategic Growth Council, which focuses on advancing sustainable communities that promote equity, strengthen the economy and protect the environment for the state of California. Bob is the President of the Board of the San Francisco Museum of Modern Art.
Four years ago, Bob and his wife Randi co-founded the Pisces Foundation. Here, Bob talks about their motivations, challenges, and joys.
What was the genesis of the Pisces Foundation, and what's been the process for realizing its formative ideas?
My wife, Randi, and I have always been interested in supporting work that improves the lives of people and helps the environment. We were looking for an opportunity to work together on our giving and to combine our passion. More importantly, we wanted to find a way to make our giving more focused and strategic.
When we began talking about what our giving would look like about a decade ago, we kept coming back to the idea of wanting to mainstream solutions that deserved more attention and allowed us to act boldly. A hike in Mount Tam helped us find what we wanted to do – start the Pisces Foundation.
We wanted Pisces to have a mission of finding innovative new solutions that could make a difference in our environment and communities. We already had experience in water and environmental education, but we wanted a third "leg" to complete the stool.
We reached out to experts – like David Beckman, who was at the Natural Resources Defense Council (NRDC) at the time and is now President of the Pisces Foundation – and asked them to help us refine our approach. He helped us lock in on our three focus areas – environmental education to create the next generation of environmental stewards; water resources to ensure we manage our water in a way that ensures we have clean, healthy water for generations to come; and climate and energy so we tackle climate change, one of our most pressing problems.
Through the Pisces Foundation, we are helping those working in the environmental space learn, collaborate and accelerate progress. We couldn't be more excited about the progress we have made to date and about the decision we made on our hike.
How does the Pisces Foundation choose grantees?
The Pisces Foundation has a great team of experts in each of our areas of focus – environmental education, water resources, and climate and energy. These individuals have dedicated their lives to helping identify opportunities and powerful new solutions and to acting decisively to make sure these solutions are adopted. They have their ears to the ground and are constantly engaging with grantees to understand what's happening in the field.
We tap into the smart thinking of the Pisces team when making grantmaking decisions and determinations of where we will spend our resources. And we make sure that what we support aligns with our three program areas.
For example, Jason Morris – the program officer for environmental education – has found that one of the best ways to equip kids with the environmental know-how to make smart decisions about nature and to help them become environmental stewards of tomorrow is through Next Generation Science Standards that are currently being adopted by schools across the country. He's therefore helped us identify an opportunity to support the expansion of a program that started in Maryland and requires every graduating senior to learn science via an outdoor experience. We are helping to mainstream that approach because we know it will have immediate benefits for children and long-lasting benefits for communities and our environment.
What are some of the Foundation's projects that have been particularly meaningful to you?
I'm proud of all our projects we lead at the Pisces Foundation. Our big focus is on being an early mover and finding new, proven solutions that we want to mainstream. We chose our three program areas because they provided us with an opportunity to be ahead of the curve.
For the climate and energy program, we have focused on short-lived climate pollutants, commonly referred to as super pollutants. These are pollutants like methane, hydrofluorocarbons (HFCs) and black carbon that have a huge impact on our climate and, in some cases, even impact people's health. To help reduce super pollutants, we seek out grantees who are spearheading readily available solutions such as reducing methane leaks in oil pipelines.
Just recently, we joined a group of foundations and private donors to unveil a new donor fund of more than $50 million that will expand energy efficiency efforts in developing countries as HFCs – which have thousands of times the warming impact of CO2– are phased down.
Participating in this exciting collaboration is just one of many endeavors Pisces is pursuing to quickly accelerate progress and meet the challenge of climate change. By bolstering carbon cuts with needed reductions in all pollutants driving climate change, we feel we can successfully meet the world's climate goals.
How can we all promote environmental literacy?
Environmental literacy is all about giving kids opportunity to get the environmental know-how they need to become well-prepared stewards for our rapidly changing world. It also gives them an chance to engage in dynamic learning environments – whether in the classroom, in a canoe or anywhere in between. The Pisces Foundation values environmental education because we recognize that it's one of the best opportunities to keep our kids healthy and our communities strong.
And we're not alone in believing this has a positive impact in a number of spaces – states, schools and communities are tapping into the benefits that come from environmental education, so it's a part of every kid's experience. More than 35 states have adopted or are in the process of implementing environmental literacy plans with the transformational learning opportunities that help them succeed. I'm excited to have us do even more to help grow these opportunities.
If readers of this blog want to know whether they have environmental know-how, they just need to know whether they understand how their actions impact the environment. And they need to find time to have rewarding nature experiences.
Why focus on water conservation?
Water is an issue I have long been passionate about – it was one of my priorities when I joined the board of NRDC and continues to be a priority for Pisces. Our president, David Beckman, and I got to know each other when we built a new national water program at NRDC.
Anyone living in California will not be surprised to know that we are struggling to meet increasing water demands, and there are communities like Flint, Michigan – as well as here in the Central Valley of California – that have had to deal with polluted drinking water that can harm their community and health. If we want to have a future where no child has to worry about drinking unsafe waters, we have to find solutions.
One of the powerful approaches that we've identified is breaking down silos in how we care for and manage our water and mainstreaming a range of new solutions that are ready to go today. For example, when we as a society are investing in keeping runoff pollution out of water, let's do it through new solutions that can recharge our drinking water supplies and green inner cities at the same time. Through the Pisces Foundation, for example, we continue to support the Water Foundation, which we also helped found. It is working on a plan that will use new approaches like this to dramatically cut the water used in the City of Los Angeles while cleaning up its coastal waters.
By using new, coordinated approaches and new technologies, we will have safe water coming from every tap, farms that grow food without polluting waterways, cities strengthened by cleaner lakes and rivers, and enough water for both people and nature.
How do you and Randi work together to manage the trusteeship of the foundation?
Randi and I have a shared passion for the work, which makes it a lot of fun to have a foundation that combines our efforts. We have a fantastic team, and we enjoy hearing about our work and contributing our insights on strategy during board meetings.
From the start of the Foundation, David worked with us to consider and agree on the three program areas, so it makes it pretty easy to work together and with the larger team in a cohesive way. In terms of management style, I think we are a good balance of energy and emotion. We enjoy teaming up to learning more about our issues; we do field visits from time to time (everything from visiting advanced sewage treatment plants in DC to holding meetings in India); and we talk about our work over the dinner table.
We've been lucky to see progress already, whether in after-school programs our grantee California Academy of Sciences has begun to roll out across the U.S. or when nearly 200 countries agreed this month to phase down HFCs, which many believe to be the most important enforceable agreement to address climate change. That makes it particularly fun to talk shop around the dinner table.
What's surprised and challenged you in your work to form and nurture the Pisces Foundation?
We've been working in this space for over a decade, and what has surprised me most since starting the Pisces Foundation four years ago is just how many smart people are working on our issues and how many great ideas are already out there. Our Foundation is looking to spotlight and advance new, proven solutions that make the world a better place. We are looking for innovators in our three program areas. Initially, I thought it might be tough to find new innovations and that we might struggle to have people join us in supporting our programs.
The opposite has turned out to be the case for all our three programs. There are brilliant people working to reduce climate change and to keep communities healthy by addressing super pollutants in addition to carbon cuts. States are stepping up with new approaches to science education, which naturally helps create environmental literacy. And new mobile technology can be used to help rein in water pollution and even potentially help ensure tap water is clean no matter where you live. The solutions exist! We just need to act quickly and decisively in supporting them.
Our challenge has been making the tough choices about which of these opportunities to support and which partnerships to create. It's a good challenge to have, and we're thrilled to have some of the leading thinkers in our issues areas on our amazing staff.
How has doing this kind of work enriched your own life? What are the key lessons you've learned?
My parents instilled in me a love of giving, and I am so happy that they did so. It's so fulfilling to know that you are giving back in some way and that your work is making a difference. That's what I love about the Pisces Foundation – it is giving me the opportunity to make an immediate difference and to have a lasting impact for future generations.
The biggest lesson I have learned through this work is the importance of partnership and collaboration. Pisces is a foundation that is trying to accomplish big things with a collaborative instinct, reaching out to other organizations that care about the same things and want to make a difference in environmental education, climate, and energy and water resources. When we work together, we take full advantage of opportunities and can adapt based on what we learn.
I've also learned the value of listening to experts. No person can know everything, but there are individuals who have dedicated their lives to making a difference in their chosen field. Some of these individuals work for us at Pisces, and others are working in the field. When we make decisions, we tap into their knowledge. That's why Pisces supports organizations like the Institute for Governance and Sustainable Development, which has been a leader in a number of victories to reduce super pollutants. It is instrumental in helping us make smart choices.
As someone who has spent my career in the corporate sector, I have also been pleased to see how business can make an important difference in the issues we work on. For example, we're partnering with folks at the Intel Foundation to advance remote sensor technology. Businesses like REI are active in a network, called Blue Sky Funders Forum, that we helped create to advance environmental education. And many businesses have stood up for the need to reduce chemicals like HFCs to ensure a safe and stable climate.
Are there particular ways through which you personally maintain a connection with the natural world?
Randi and I love to hike and be in the outdoors. It connects us to nature and to each other, and it helps us reflect on what we are trying to achieve through Pisces.
One of our favorite activities is to hike in Mount Tam – where we first came up with the idea to start Pisces. When we are hiking up the hill and see all the people on the trail enjoying nature with us, we feel validated about our decision to focus on helping people and nature thrive together.
Outside of work, what do you and Randi do to relax?
Randi and I love the outdoors – fly fishing is a passion we share. We're happy when we're outside.