After 27 years of solving problems for diverse clients with McKinsey & Company, fellow GSBer Antonio Puron "retired," but not to the golf course. Driven by what he saw as deficiencies in the Mexican education system, Antonio conceived and established Inoma, a non-profit dedicated to developing the potential of all children, particularly the most needy. He chose the moniker 'Inoma', which means 'on your own' in the language of the Aztecs, because the non-profit's system of computer-based games and activities are designed to engage and educate children, even without assistance from teachers or parents.
Inoma has developed two websites. The site for elementary-school-aged children, taktaktak.com, uses more than 90 learning paths in Spanish and English to help children master math, reading comprehension, history, music, art and other curriculum based skills, on their own. The site automatically tracks user performance and directs him or her to higher level activities when readiness allows. To date, the Tak-Tak-Tak system has reached over 300 schools and 245,000 children all over Mexico and South America.
A companion site, labtak.com, allows teachers and parents to track student performance, and helps them incorporate Tak-Tak-Tak tools into lesson plans or at-home experiences.
Here Antonio discusses the rationale for Inoma, and the challenges and joys of nurturing at risk kids that might otherwise constitute a lost crop of human capital.
Why did you decide to launch a non-profit?
When I approached the end of my consulting career, which is very definite in McKinsey because there is a mandatory retirement age of 60, I started mulling about what I would do to give back and to have a personal legacy.  
I do not want to become the richest guy in the cemetery.
Also I have a family history of early deaths.  My father passed away at 56, my eldest brother passed away at 56, too.  I come from a large family. I have seven siblings and my second oldest brother also passed away at 59. When I hit 56, I thought: I really don't know if I'm going to make it for a longer period of time so what will I do if this were the last year of my life?  … and decided, along with my wife Holda, to put into use the rest of my professional life doing something that would be socially significant given that by now we have a reasonable savings.
 I had always been active in McKinsey in the educational sector and had conducted a series of studies and analyses that gave a very clear picture that in Mexico, and world wide, the vast majority of children, our evergreen crop of raw human capital, do not realize their potentialities because they are not being developed and educated in a very impactful manner.  There I have been thinking increasingly in a wider space and becoming more ambitious about going to millions of children worldwide to make a difference in their educations.
What does your non-profit, Inoma, aim to do in the area of education?
I have to give a little bit of background.
Free equal access to quality basic education is a prerequisite to productive participation in modern globalized societies. It has signified not only an aspiration of every culture and group to achieve justice and inclusion of its members in the collective, but also as a means to offer social mobility to its most capable participants so they can realize their full potential. Denying children in their most important formative years a minimum quality education is not only morally unjustified, but is also incredibly short-sighted and senseless. The most important natural resource of nations are the potentialities of their newborn generations.
Most countries today face the challenge of delivering competitive quality basic education that effectively creates a platform to allow talent to flourish independently from its socio-economic circumstances and familial culture.   However in Mexico, as in most countries, we have chosen as a society to deliver free education funded with public resources through a rigid system, manned with a unionized workforce that is oftentimes more concerned with their labor entitlements. This creates a particularly difficult environment in these times where technology redefines the learning and teaching paradigms, much as it happened in the 16th century after the invention of the printing press. What used to be isolated educational systems now face a globalized "war for talent and skills" that demand vast improvements that are difficult to be delivered by tenured teachers prepared for a 19th century classroom.
In Mexico this situation has devolved into very, very deficient basic public education.  Therefore after the K-9 system, which is free and that most children complete, more than half of students drop out from grades 10 to 12, followed by another half of them dropping out when entering university and with only about 10 percent of each crop of citizens graduating from university.
Well, I asked myself, how can you change what is really a political problem?
 I decided to do something about it that would be independent from the government. My reasoning for Inoma was the following:  do something that requires no permission. I will use the most modern methods, I will use technology in the most efficient way to put our Tak-Tak-Tak system in front of children.
What are the important attributes of Inoma's approach?
I wanted something that most children, the ultimate users and beneficiaries of the learning process, would be willing to use with alacrity on their own, not necessarily aligned to an activity that has to be executed inside a classroom. Tak-Tak-Tak had to be something that would be capable of attracting a child´s attention over a long period. The obvious answer was a game. Children love games.
But the games, the interesting activities, would not only have to be very, very attractive to the child, but also aligned with the curriculum and following a series of steps in a learning progression to build up skills little by little. We have experimented a lot on how to blend fun with learning.
So we developed learning paths for the games that are embedded in the Mexican curriculum and of course in many other curricula worldwide. We researched the Common Core in the United States, curricula in Spain, England, and Argentina. We found out that in K-6 we are talking basically about the same thing. All Ministries of Education demand that children learn reading, writing, arithmetic, abstract thinking, and of course all the new 21st century curriculum that UNESCO (United Nations Educational, Scientific, and Cultural Organization) has developed and proposed as skills.
The real problem, the real challenge here is how to get into the classroom.  I have been successful in doing that because my system is so efficient that it is almost for free.  The cost of operating the system is one tenth of one percent of the cost of the expense of the system operated by the Ministry of Education.  And therefore my project has been able to create a push-pull effort, in the classroom and outside, in which children themselves will opt to use my system and where teachers promote it.
And the children do go to it immediately, they don't have any political problems in their heads.
They just want to have fun and satisfy their intrinsic curiosity and drive for competition and achievement. If you show the games to children they will use them at home, if they can, and somewhere else besides the school system if the school system doesn't use them.
So far we have deployed 90 out of 200 games that will cover the full curriculum, and we have reached a membership of 250,000 children, well on our way to our goal of 1 million members. We have users actively using the games outside of school hours and during the weekends. About 30% of our visits are outside of schools.
One very important feature of Tak-Tak-Tak is that it offers free access to any child, anywhere, anytime and on any technological platform. My goal is to reach the bottom of the pyramid. I don´t want to put additional barriers to entry for a little child, like fees that will be more expensive to collect than what a poor kid can pay.
Invalid Displayed Gallery
What approaches to fundraising have you tried? Has it been difficult to find donors?
Well, first of all you need to put some of your own skin in the game, that's for sure. If you imagine that this is like a new venture, I would be the angel investor. I was able to convince several former clients as well as some of my acquaintances from McKinsey to invest in donations for the idea. This is something that was built up over time.
I channeled some of those donations to try to develop the first games through a friendly non-profit that was more or less aligned to our vision. We were able to test the first concepts and immediately it became evident that the idea had some mileage to it.
I formed a non-government organization. By the way, to get tax exempt status it takes a long time in the Mexican system. So I was not able to issue tax-exempt receipts for at least another 18 months. We are very efficient, our staff is only 12 and develop good quality games at 20 to 33% of the cost in the US.
I've gone to large international foundations, 5 or 6 very large, very global, the largest foundations that should take a program like this because it is really very efficient and inexpensive and can be leveraged worldwide. All of them require incorporation in the US as 501.c.3
But the answer I get back all the time is, you come from Mexico, you are not a developing country anymore, you are now a middle-income country. You should be able to fund it yourself and go after your own billionaires. But I tell them this is a global thing, this is a product that can work in Ghana, in Africa, anywhere. Their managerial and decision making processes don't listen to these arguments.
Driven by a quest to quantify and justify impact, the bureaucracy of giving has grown to such an extent that it is really stymying the larger foundations. They have to check the boxes, fill in the blanks to make a decision. It becomes so much more like a machine and much less something that comes from the heart.
It is very difficult to get money from governments, you have to go through ill-defined competitive bidding processes.  It is very difficult to get money from large global foundations, and it is very difficult to raise money even from people that might be willing to fund you but do not think in large terms.
For every donor I've been able to convince, I've had to work with another five. It takes a lot of time, a lot of stamina, and being just stubborn.
Of course my challenge at this moment is to generate a business model that will make our Tak-Tak-Tak system self-sustaining through income streams that might be permanent, but without sacrificing the fact that we are offering something that the poorest of the poor kids anywhere in the world might eventually use and make a difference in the quality of their education.
How do you get the prerequisite internet access to needy children? How do you get them computers?
These are games that are played in a browser, they are html5 based. Everything happens in the cloud.
The question arose, what do you do if there is no connectivity?
I had to develop a solution that everybody told me was technologically impossible.
I decided I would develop a USB-based solution, so that all the Tak-Tak-Tak system would be based in a USB stick and children could play it in any computer even if it is not connected. Whenever that USB detects that it is in a connected environment, it will connect to the site and upload and download updates. The USB can be given for about $3 to a very poor child. It can be used in any computer system, any operating system.
Getting children computers, hardware, is not a problem I will solve. I believe that access to technology, to hardware, and access to connectivity will happen eventually. And there are economic forces in place in the world that will make that happen at different speeds in different places, but it will happen.
I am focusing on the content, not on the hardware. And that's where a lot of people who try to do educational solutions have failed in the past. They want to solve the educational challenge through hardware. And I say that's ok, but once you have the hardware solution, what is the software in the hardware, what is the content?
What other setbacks and difficulties have you faced?
Actually, it was not quite a setback, but it could have been. At one point someone came to me with the offer to do mathematical analysis of a standardized test to see if this system really works or not.
There is a group of people that are graduates here in Mexico City from respected Schools of Education that five years ago were saying games don't work. They were saying it to all people interested. The advice they were giving to me is don't test mathematically, don't make a statistically significant test because it will be very tough to administer and very tough to interpret.
But I wanted to know if I was wasting my time or not.
I was also very lucky, I am a partner with the father of the governor of Puebla, a large Mexican state. He introduced me to Puebla´s Secretary of Education, and that's how I got to be able to test, in real classroom situations of public schools, how the system might work.
I used a professor from Stanford to create the testing protocol. And we tested in 21 schools with 8,500 children for one semester using the Tak-Tak-Tak games and a group of another 21 schools and 8,500 children as control. And they administered them standardized tests in math at the beginning and at the end. We did it completely by the book, something that is statistically significant.
What turned out is that children using the games without any assistance from the teacher scored much better, by 0.2 standard deviations, which is huge.
What do you envision as the future for Inoma?
This can grow in many different ways, it is just amazing how flexible this can be.
Let me give you a very wild idea.
By following and tracking what every player does, in 10 years, I will be able to tell you what the different learning modes are for people, like for instance some of us are more conceptual, some are more spatial, mathematical, and so on.
So I should be able to work on developing a theory of learning that understands different modes of learning in childhood so that we can tailor the approach to an individual understanding of how he or she learns intrinsically, the natural mode. That's one way.
The second way is I can track this and move this one from early childhood or toddlers all the way up to university. Because I would be able to create sites that are tailored to each bracket and offer as many different contents as possible through interesting, captivating activities.
Many other ways to exploit the immense quantity of data coming out from players come to mind. We are just scratching the surface.
What's been the most fun for you in creating and growing Inoma?
What turns me on is focusing on a tough problem to solve. That's one thing. The second thing is if you put a noble cause in front of people, a lot of people will light up to it and will contribute, particularly young people, the people that are working for me right now. They are great, they have other possibilities but they are there with us, and they want to make this happen. Leading excited people is another source of incredible fun and exciting.
I think that I am satisfying something that is very deep in my heart which is I want to give back. Because I belong to a very miniscule, privileged segment of society and I think that the world needs to share more with the people that are not as fortunate.
And frankly, I think that we are wasting talent. It's just our most important natural resource, the raw talent of future generations.
Do you have any free time? What do you do to rest and relax?
I tell you McKinsey was a great environment to learn how to cope with stress. Nowadays I am much more rested than in the past with McKinsey. I am active. I don't feel I work more. I feel I work as much as I want.
I have given up golf for all practical purposes. I like to golf but I made a value assessment as to what the value added of spending 5 hours in golf is vis a vis trying to rest in some other ways. I read a lot. My wife and I, we spend a lot of time together watching movies or reading or visiting friends. We travel often.
We have two daughters. One of them married her high school boyfriend. They both went to the Imperial College in London and got their PhDs and now they live and work in London. The second one actually went to the GSB, she is class of 2014. She is now working for the San Francisco Museum of Modern Art, in the financial area. She has been very active in the museum and art environment.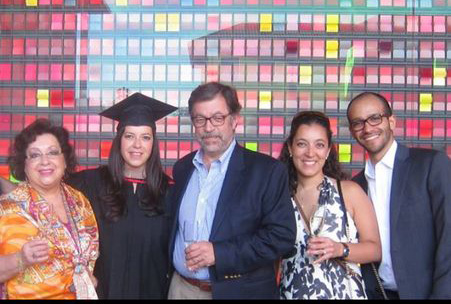 For more information about the Tak-Tak-Tak system, visit inoma.mx
Anontio Puron is a Director Emeritus of McKinsey & Company. In addition to his duties as Chief Executive Officer of Inoma, he serves on the Boards of Banco Santander Mexico, Zurich-Santander, Museo Nacional de Arte, Instituto de Fomento a la Investigación Educativa (a think-tank focusing on education), and Filantrofilia, a non-profit association that reviews and rates charitable organizations.
A young student using Tak-Tak-Tak.