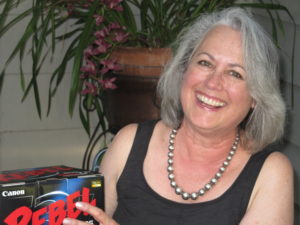 In January 2016, nineteen Project Redwood partners and friends met to plan the organization's legacy.  Kristi Smith Hernandez, a founding partner, felt recharged by what she heard.  The partners planned for a series of exciting initiatives, now collectively named the "Pathway to 2020."
Kristi surprised and delighted the group by volunteering to serve as Project Redwood's Executive Director for a year.  Here, Kristi talks a bit about the unexpected news that prompted her decision, and her hopes for the coming year.
WHAT IS THE "PATHWAY TO 2020"?
At the January meeting, we agreed on changes that I think will lead to greater impact and will help more people work their way out of extreme poverty.
We decided to narrow our focus and concentrate on making grants to a mix of established and fledgling organizations engaged in projects that work with sizeable populations to help them achieve self-sufficiency and higher standards of living.
We agreed on the advantages of multi-year grants.
We established a committee of sponsors to help provide non-financial assistance to our grantees.
We are moving to expand the partnership by reaching out to the broader Stanford community.
We are working to streamline internal decision-making by reducing the size of our Board of Directors while rotating its membership and by delegating tactical decisions to committees.
WHY DID YOU RAISE YOUR HAND FOR THE PROJECT REDWOOD EXECUTIVE DIRECTOR POSITION?
There are many reasons, but the basic reason was quite personal. The January strategic planning meeting was ten days after my second surgery for thyroid cancer.  As cancers go, the type of thyroid cancer that I have is very treatable and not too bad, but it was challenging to come to grips with the reality that "I have cancer."  (At this point we don't think that the cancer has spread. We are now monitoring.)
We all survive something, but thinking about survival rates, even good ones, just wasn't what I'd planned for my first few days of retirement.
So during the Saturday afternoon session when we were discussing the potential for raising larger funds for possible infrastructure expansion, the idea popped into my head that in lieu of a $100,000 donation, I could volunteer to be the Executive Director for a year and work with everyone on the next steps.  At the break, I floated the proposition by Carol Head.  After a brief moment, which she probably spent wondering "why", she flashed a smile and said she thought it would be a good idea.
Basically, I wanted (and needed) to plunge into something really positive.
WHAT WOULD YOU LIKE TO ACCOMPLISH IN THE NEXT YEAR AS PROJECT REDWOOD'S EXECUTIVE DIRECTOR?
My involvement in Project Redwood had been reduced over the last two years due to both work and issues related to having my 92-year-old father living with us.  Now that I've retired and my father has moved into assisted living, I can now plunge into Project Redwood.  I had, and still have, a lot of catching up to do. The first few months of 2016 have been more like dipping a toe into the water than plunging in, but it's been wonderful to work with everyone again.
I've re-assimilated enough to set out some goals, though.  Here's what I'd like to get done in the coming months:
Move forward on the Pathway to 2020.
Improve internal communications by attending committee meetings and promoting use of the Teamwork platform that Project Redwood has been using for the past couple of years.
Talk with all Project Redwood partners at least once.
Expand regional meetings including possible presentations with grantees Cristo Rey in New York and Earthenable in Boston.
Help find a new Co-Chair to replace the irreplaceable Ken Inadomi in October 2016.
Add at least five new volunteers from among our classmates.
Complete a Project Redwood Archive, so that when we need to find something, the response isn't always, "Ask Donna (Allen)."
WHAT ARE YOU PLANNING FOR YOUR PERSONAL LIFE IN 2016 AND BEYOND?
I'm looking forward to spending time with friends, family and Project Redwood.  I'm checking off bucket-list items including hiking in the fall colors in New England (this October), spending more time at the beach (we bought a house on the Monterey peninsula) and finally getting back up on a stand-up paddleboard (nothing scheduled yet).