David Blenko  (in the adjacent photo, in a light moment during his Stanford Graduate School of Business days) is the Chief Governance Officer of HOPE worldwide, a $25+ million international poverty relief organization. In 2007, 2008, and 2009, Project Redwood funded HOPE work in India. In our 2014 funding cycle, we voted to support a project in Bolivia. David recently agreed to share some experiences and insights from his non-profit work in the last decade.
What course has your professional path followed?
At the beginning of college, I thought I wanted to be an attorney. A constitutional law class cured me of that idea. Summer jobs during college with small businesses got me interested in getting an MBA, but I wanted to get away from the classroom for a while first.
My job before business school was with a construction company. It was an opportunity to experience some pretty remote places, like the Alaska pipeline. I ultimately decided real estate was a better fit than construction, and so I came to business school with a real estate focus.
After our Stanford graduation, I worked in real estate finance for almost 25 years. This involved working in organizations ranging from startups to institutional capital sources. The last 10 years I started and ran a high yield regional real estate investment company.
Eventually, I realized it was time for a change. I wanted a new challenge. Fortunately my partners and I were able to work out an amicable arrangement where they took over managing our investments. It was 2004, a great time to exit highly leveraged real estate investments.
My transition from real estate finance to the nonprofit sector coincided with a period when I studied the Bible and got far more committed to my Christian faith. It was a period of self-assessment on a variety of levels.
Initially, I took what amounted to a sabbatical. I refereed college soccer games and consulted for a number of non-profits while taking courses in fundraising. Ultimately I met the founders of HOPE worldwide, and I just was really drawn to the organization and its work with poverty relief. HOPE worldwide was more entrepreneurial and higher impact than other nonprofits with which I had worked.
Could you share a bit about the history of HOPE worldwide?
HOPE worldwide is a Christian poverty relief organization. It was founded in 1991 by members of the International Churches of Christ, a group of affiliated non-denominational, evangelical churches.
HOPE worldwide's early work involved local programs with strong entrepreneurial leadership. In India, this involved rebuilding homes for a community of lepers whose homes burned down. In London, the focus was on helping street people, particularly people with substance abuse problems. In Mexico City, health brigades brought medical care to people who otherwise couldn't access it. In Cambodia, HOPE worldwide started a hospital and focused on restoring a health care system decimated by the Khmer Rouge. In Africa, the work focused on helping victims of AIDS and orphans affected by AIDS.
HOPE worldwide was founded to lead and guide a handful of scattered programs started by local churches. We serve the poor and needy regardless of their religious affiliation. While the churches and their members remain a vital part of our work, we partner with a wide variety of other organizations, corporations and governments as well. Today HOPE worldwide serves over 1.5 million people annually on every inhabited continent.
What kinds of work does HOPE worldwide do now?
We've identified three key business areas. Our Health and Social Service business has a particular expertise in managing hospitals and medical clinics in developing countries. It has developed a social enterprise model we call "fee for service clinics" whereby patients who can afford to pay for medical service pay fees that subsidize the costs of free medical care for those in extreme poverty.
Global Disaster Response is our second key business area. In the United States, we partner with other national organizations with an expertise in disaster response work. Examples of this work include rebuilding communities decimated by Hurricanes Katrina and Sandy. Much of this division's focus is on the many countries in the world that are unable to afford the vast disaster response infrastructure that is typical in first world nations. This service division of HOPE worldwide has been active recently in places like Haiti, the Ivory Coast, Indonesia and the Philippines.
The third core business is Community Service. We've earned national recognition for our skills in mobilizing volunteers. On Martin Luther King Day, for example, we've often coordinated service projects in 35 or 40 cities across the United States.
On what projects have HOPE worldwide and Project Redwood worked together?
Project Redwood started by providing partial funding for a partnership we created in India with the United States Agency for International Development (USAID). The focus was a child survival program, in an urban slum of about 300,000 people in Delhi. The objective was to reduce a dramatically high infant mortality rate. Because parents needed further education on how to care for their children, there were many deaths due to preventable conditions like diarrhea. Our work consisted of a large public health education program through street theatres and other creative means of reaching individual families – as well as an advocacy program that led to the government establishing medical facilities in the community. The lives of thousands of young children have been saved as a result.
In 2014, Project Redwood voted to support a HOPE worldwide program in Bolivia. Project Redwood is supporting a nursing assistant training program in La Paz that will have the dual benefit of upgrading the employment potential of desperately poor young people while also improving the quality of care in a hospital that serves the poor.
What do you feel are the characteristics of HOPE worldwide that make its work effective?
We work hard to understand the communities we serve around the world.
A good example is a school we built in Afghanistan. Fortunately, our team didn't insist on a westerner's perspective on choosing the location. They sought advice from local leaders. There's a picture I like of a group meeting where they met, dressed in Afghan attire sitting in a circle discussing the matter. The advice from the tribal elders was NOT to build the school in a prime location, because that would create an ongoing battle between rival villages for control of the property. Instead, the school was built in a rocky valley surrounded by mountains. The net result was more kids in attendance at the school and no fighting over the property.
HOPE's philosophy is to focus on establishing a strong local presence and make a lasting difference at the community level. Whereas many disaster response organizations are gone within months after a natural disaster, we look for opportunities to make an ongoing contribution. Fishing villages in India that were decimated by a tsunami 10 years ago now have schools that provide educational opportunities for students that did not exist before.
Another important aspect of HOPE's value added is our relationships with key partners. A good example is our procurement business. We are fortunate to have many generous partners who contribute medicines and medical supplies to support our work. The Sihanouk Hospital Center of HOPE in Phnom Penh, managed by HOPE worldwide, has become one of the leading adult hospitals in the country in large part because of the generosity of partner organizations that have contributed about a quarter billion dollars of supplies, medicine and equipment since the hospital's founding.
I still find the passion and commitment of our volunteers and staff amazing after all this time. When I first started working with HOPE worldwide, I was involved in organizing housing for people relocating to Los Angeles after Hurricane Katrina. There were 23 large buildings, like bunk houses, that had to be painted. All of this was supposed to be accomplished in one day as part of a Martin Luther King Day of Service. I frankly wondered if we had taken on too much. I thought the painting could take weeks. When I drove out to the site early that morning, the parking lot was already full and there was a line of cars from the freeway, a half a mile of cars with people who were there to serve. I'm guessing that at least a couple thousand showed up. Those bunk houses were painted by noon. People just went after it. There is really a strong commitment to service.
When you need a break from the intensity of your job, what do you do for fun?
One of the things I've loved my whole life is soccer. I started playing in the first grade and kept playing until I was 50. I used to be a soccer referee and I enjoyed refereeing college and professional games. Now I'm a committed fan. I'm very excited about how United States soccer is coming along, becoming more competitive on the world stage.
Mostly, though, I love time with my wife Kathy and our family. Our daughter Jenny is back in Los Angeles after getting her Master's degree in Social Work. She was in Bolivia for a year after college and now she's working in an early Head Start program with families who don't speak English. She's the sweetest kid but she's cast iron inside. We enjoy having her back.
Our son Peter is a senior in high school. He's a musician and we are trying to figure out where that will take him. He plays the piano and the pipe organ. He's gifted in a way that I didn't even understand was possible. His parents were not gifted with his kind of intelligence!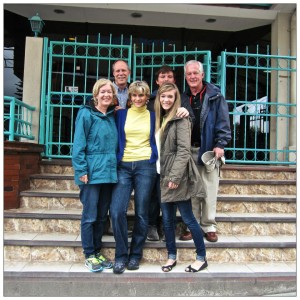 What advice do you have for Project Redwood?
The hardest money to raise for non-profits is for what we call capacity development. It's funding for what the nonprofit sector calls "indirect" costs. It involves computers, fundraising, financial controls and the like. There's a widespread conception that the best organizations are "efficient" or funnel most of the funding they receive into programs. While it is important to be efficient, nonprofits are often challenged by their inability to sufficiently invest in building strong organizational infrastructure.
One idea that Project Redwood could think about as a strategy is to take some of its money and look for organizations of a certain size where the need is for capacity development.   That strategy could lead also to more opportunities for engagement by classmates by providing advice on strengthening organizations' capabilities in various management related disciplines.
I believe Project Redwood should be cautious about what amounts to "seed" investing in poverty relief work. When you invest in a young company in Silicon Valley, for instance, you have an ecosystem that already exists to support it – attorneys, technology experts, venture capitalists, skilled workers, etc. In poverty work, you can't necessarily count on all that infrastructure being there, so doing seed investment is riskier. Project Redwood might want to think about working with organizations that have already achieved a certain critical mass and depth of expertise.
Before I got involved with HOPE worldwide, I knew very little about poverty in the world, particularly extreme poverty. Extreme poverty means living on less than $1.25 per day, a condition that means severe deprivation of basic human needs. The first time I went to a developing country I realized that I'd won the lottery in many respects when I was born in the United States. I considered how many advantages I've had and how many people have worked hard to make opportunities possible for me. I hope that one of the things that emerges from Project Redwood is a clearer sense of gratitude. I believe that brings with it moral, ethical and spiritual responsibilities to make a difference in the lives of the less fortunate.